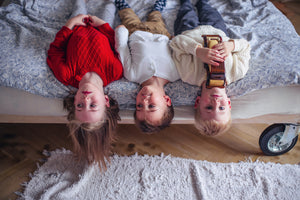 4-week General English course, for a total of 80 hours of lessons + 20 extra hours in Melbourne, Sydney, Brisbane and Gold Coast . The English course is the best way to start your adventure!
The courses are all held in the city center of large cities. We have selected the schools that have obtained the best reviews and awards and those where other students have been better and have given us more than positive feedback!

It serves not only to improve your level of English, but also to settle in faster and make new friends. You can start the course every Monday and remember: the better you speak English, the more you can aspire to a well-paid job and why not, think about living in Australia forever!
How does it work?
Offer available for tourist visa and working holiday visa
20h of lessons per week
5 extra hours of free lessons per week
Extra activities organized by the school
All levels available
Lessons start: every Monday
Placement test upon arrival
Time of your choice: morning or afternoon
Days: from Monday to Friday
Registration fee included
School supplies included
Available in Melbourne, Sydney, Brisbane, Gold Coast
How to register?
Make the payment
You can pay online with your card even if you don't have a PayPal account
Email us your details: name and surname, residential address, email, telephone number, type of visa, start date, emergency contact (name, surname and telephone number of a relative / friend) and your passport photo
Write everything to ilaria@justaustralia.it
After a few days you will receive an offer letter from the school: Congratulations, you have been accepted!
Sign the offer letter, scan it and always send it to ilaria@justaustralia.it
Show up on your first day at school!
The course may be subject to price changes by the school. Only when you get the offer letter will we see the exact price, exact
On request the course is also available in Perth and Adelaide, in this case, the price may vary.
The course is also available for visa students with different enrollment methods, contact us directly to talk about it together!