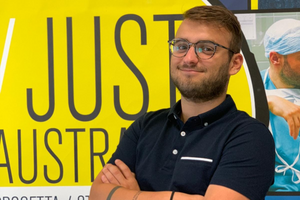 Book a consultation with Dimitri to get started as soon as you arrive in Melbourne! The goal is to apply for the Tax File Number, Medicare and other practices if you have not already purchased them in the package. Plus Dimitri will explain how to find work, giving you some useful contacts whenever possible. Other topics: how to find a home, RSA and White Card certificates, English courses, certified translations and visas.
Features

Dimitri works in the Melbourne office and specializes in Working Holiday Visa and Student Visa. Over the years he has made many contacts in Melbourne and is therefore able to give you a lot of advice on the city and on the job. Why paid? If you know Just Australia, you already know that so far he has given thousands of tips and advice for free to everyone. In person, on Facebook, by email, on Instagram, on YouTube and on the phone. The requests are many, every day, so it is impossible to follow them all. With a small contribution for the time that Dimitri makes available, his knowledge on visas, work, the city, it is possible to enhance his work and the professionalism acquired over the years. It would be impossible for Dimitri to follow everyone for free, so we thought of this system.
You pay only once, subsequent calls to clarify other doubts or receive other information are free of charge. The consultation is per person, so if there are two of you, for example, you need to buy two consultations. It takes place in the Melbourne office, if you are in another city you can do it via video call. It takes place in Italian and lasts 20 minutes. We ask you to respect the times.
How to do
Make the payment and write an email to s egreteria@justaustralia.it communicating your availability. Please note that Dimitri is in Melbourne, so he responds with Australian times. You can pay with Paypal or by proceeding it gives you the possibility to pay even if you do not have Paypal (it works better from a computer). Once you have made your purchase, wait for the screen to close.